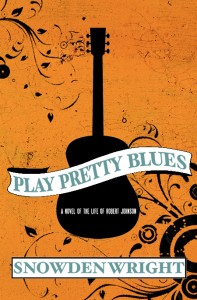 PLAY PRETTY BLUES
A Novel of the Life of Robert Johnson
The mysteries of blues legend Robert Johnson's life and death long ago became myth. Part researched reconstruction, part vivid imagination, this lyrical novel brings Johnson alive through the voices of his six wives, revealing the husband and son inside the legend, illuminating the vacuum Johnson left in the worlds of those who loved him and those he would never meet.
Available at Amazon, Powell's Books, Barnes & Noble, and directly from Engine Books. Find it at your local independent bookstore via IndieBound.
Read excerpts of Play Pretty Blues at Graywolf Press, Vol. 1 Brooklyn, and The Nervous Breakdown.
"If you're going to base a novel on the life of Robert Johnson, you'd better be able to make your prose sing, and Snowden Wright can. He can also make it howl. In these stunning pages, he's crafted a dark and dissonant tale, told by six of the many women the shadowy bluesman boasted of stashing all over the country. If you're looking for the next major writer to emerge from Mississippi, search no further. Here he is."
—Steve Yarbrough, author of The Realm of Last Chances
"In his audacious first novel, Snowden Wright reinterprets the legend of bluesman Robert Johnson from the viewpoint of Johnson's indomitable six wives, bringing to life their shared passion and longing for a man who was easy to love but hard to hold onto. Wright's fervent, musical prose also accomplishes the unlikely and impressive feat of capturing in fiction the very essence of the blues. Play Pretty Blues is a work of extraordinary imagination and soul."
—Will Allison, author of Long Drive Home and What You Have Left
"Like the six strings on legendary Robert Johnson's guitar, the six wives of Johnson sing gloriously and mysteriously in Snowden Wright's Play Pretty Blues. Wright has dug into the layers of myth surrounding the bluesman and invented a memorable character. This debut novel—full of clever invention—may come to serve as his new biography! Not since Louise Erdrich's Tales of Burning Love have women shared a single husband with such passion, curiosity and humor. Play Pretty Blues takes us deep into the south, the blues and our humanity."
—Victoria Redel, author of Woman Without Umbrella
"Play Pretty Blues is a heartbreaking romance, a murder mystery, a comic picaresque, a reimagined biography, a historical guidebook, a polyphonic blues song rendered in crystalline prose, a beautifully structured shaggy dog tale straight out of the South, and above all a spectacular novel, one that announces Snowden Wright as a storyteller of limitless talent."
—Matt Burgess, author of Dogfight, a Love Story